LIG Association Health Program Coverage for Your Members
LIG Solutions delivers your organization a highly requested membership benefit through a concierge service, that will allow you to offer affordable health coverage plans to your members, their families, and businesses/employees navigate the complex insurance marketplace. 
Exclusive Webinar for Association Executives: State of the Insurance Industry Panel Discussion
Coverage Options for Members
Nearly all your members can benefit from the coverage options LIG offers including major medical, short term policies, vision, dental, critical care, life, supplemental coverage, Health Reimbursement Arrangements (HRAs) programs and much more to either make up for coverage gaps with current employer plans or for those typically do not qualify for corporate group plans (i.e. sole proprietors, independent contractors, 1099, and part-time employees).
Member Concierge Service
LIG has a dedicated team of licensed advisors located at our USA based HQ to best serve your members in navigating today's complex health insurance market. Our team will find the plans that best fit your member's health and financial needs for individual, family, and small group coverage options.
Licensed In All 50 States
LIG offers health coverage options in all 50 states from many of the leading insurance providers from around the country with competitive plans & pricing from both public exchanges (ACA compliant) and private exchanges (non-ACA compliant), as well as Health Reimbursement Arrangements (HRAs) programs that are tailored to your member's individual needs.
Member Benefit Program
The programs offered by LIG are designed to help you provide a cost-effective member benefit that you can use to help keep your members engaged with your organization and attract new members with a content marketing platform that is included at no-cost for our association partners.
Non-Dues Member Revenue
All our program are done as a no-cost solution for our association partners and include a number of different "marketing remittance" options that delivers your members the advantages of affordable healthcare pricing, and streamlined enrollment process while delivering your organization a revenue stream and a turnkey solution that delivers true ROI
Little To No Staff Time
Each of the programs offered by LIG requires little to no staff time as we do all the "heavy lifting" for your organization as we administer the entire program. This includes all the content marketing elements, landing pages, and other support material used to educate your members about their coverage options with the plan offered through your co-branded health insurance program with LIG.
Call Us:
Our no-obligation assessment can help you find the best health coverage benefit program for your members!
We include as part of our member benefit programs a health and wellness-centric quarterly eNewsletter for our association partners and their members. This program is designed to help you position your organization as being a key participant in the health and wellbeing of your members, their families, and their employees. You will see this in the content below as well as details on our association partners and the member benefit program overviews.
LIG Health and Wellness Roundup
LIG Solutions in the news - CLA, Channel 3, BIHIP announcement w/o list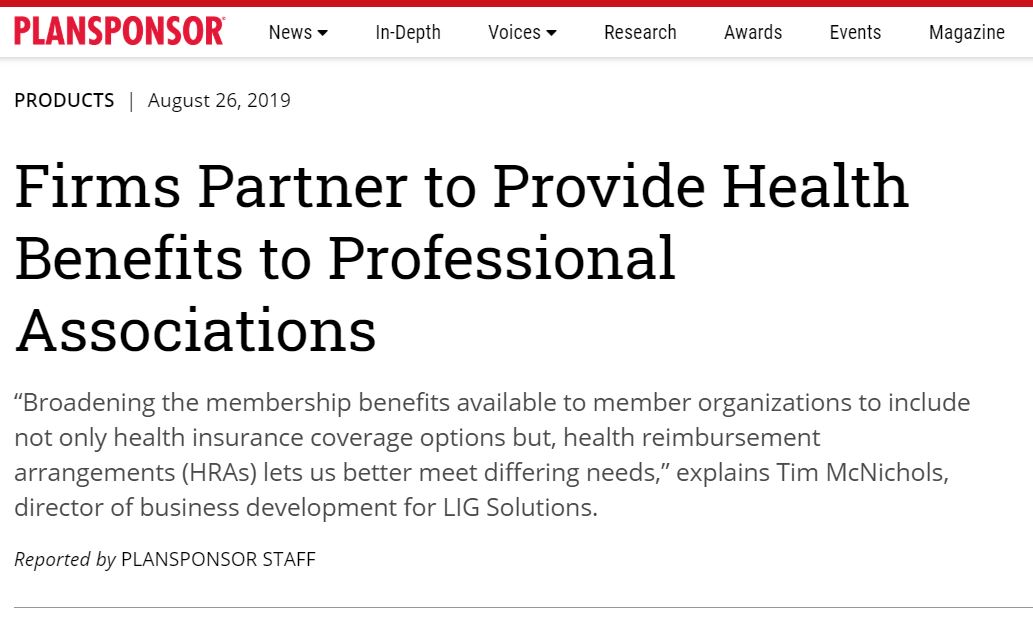 Disclaimer: By providing your information and pressing the button above, you expressly consent to receiving marketing phone calls, e-mails, and SMS messages, including those made via autodialer, artificial voice messages, automated technology and/or prerecorded message from LIG Solutions, its subsidiaries and/or one of its trusted partners at the phone number or email listed above to provide you quotes for Health Insurance, Medicare, or Supplemental Coverage. You affirm that you are the regular user of the phone number provided. Additionally, by providing your information, you are consenting to, and directing, LIG Solutions to share your information with our trusted network of partners to help you obtain insurance quotes. Our partners may thereafter also share your information with other parties to help you obtain insurance. You understand that your consent to being contacted is not a condition of enrollment or to purchase an insurance plan, property, goods, or services. Receiving quotes from LIG Solutions is always free. Additional charges may apply to SMS, call or Internet usage depending on your data providers. You can opt out of receiving future messages from LIG Solutions by clicking unsubscribe from an email or responding with STOP to a text message.
LIG Solutions/Lighthouse Insurance Group's Licensing and Legal Information can be viewed here: https://ligsolutions.com/terms-and-conditions/. LIG legal policy: https://ligsolutions.com/privacy-policy/
Copyright 2023 Lighthouse Insurance Group LLC ™